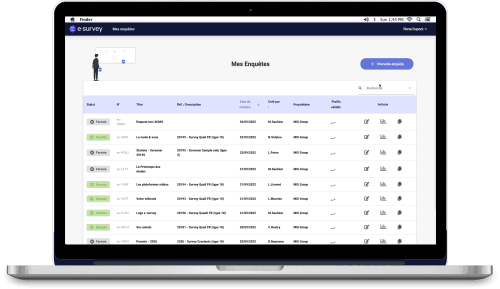 Our "Do-It-Yourself" solution
With e-Survey, our all-in-one DIY solution, you can independently conduct your research project from scripting your own questionnaire to analysing the data! In other words, using e-Survey means you have complete control over your study.
No third party required and easy process!
Create my e-Survey account
Easy to use
Our platform was created in collaboration with our research experts with one goal in mind: to be as easy as possible to use.
Easy-to-use does not mean basic features
In addition to its easy functionality, our platform also offers advanced features such as pipped-in(?) text, embedded data, routings, randomised options, etc.
User-friendly
Your questionnaire can be made available to take on different devices and provides respondents with a rewarding user experience. You can also add to participant engagement by using our handy customisation tool!
Access to our panel
Pre-target the respondent profiles for your interview and finalise the study in only 3 clicks! If you prefer using your own participants, you can also send the survey to your own network.
Learn more about our panel
GDPR compliant!
The answers provided by respondents are stored on our secure servers in France, which you can request to delete at any time.
Some exemple of e-survey features
12 different types of questions
Choose from several types of questions: single choice, multiple choice, choose image, scale questions, rating questions, forms, etc.
Customised design
Created a branded questionnaire by adding your logo and selecting your brand colours
Customised variables
Adapt how the questions are asked to each respondent by inserting piped text, embedded data, etc.
Routing and quotas
Add routing between questions as well as quotas depending on your specifications
Randomised controlled experiments
Create an experiment with different groups of respondents (e.g. A/B test)
Subgroup Analysis
Create subgroups of the population that you can interview and produce analysis for
Multi-User Management
Invite collaborators to join you and work together on surveys and analyses.
Why choose the e-Survey platform?
A Made in France solution developed by research experts.

Our team of IT developers and researchers have been supporting market research/insights agencies, consultancies and marketing professionals since 2001.

Easily script your questionnaires on a user-friendly platform

Options to build randomised controlled experiments on several groups (e.g. A/B tests)

Direct access to our panel: order respondents in only 3 clicks!

GDPR compliant:

peace of mind knowing your data is securely stored in our servers in europe and can be deleted at any time

Affordable prices

Basic features are available for free without the need to subscribe. Advanced features are available for a subscription price of £25 a month or £250 a year excluding VAT.
Contact us for more Information